Learn Strategies to Win from Federal Prison:
My name is Michael Santos, and I am the founder of Prison Professors. This enterprise exists to help all justice-impacted people. I've been developing an ecosystem for many years to accomplish that goal. For strategic reasons, that ecosystem requires that I put many strategies and tactics in place. Some of those strategies include:
Creating digital content that I can use to communicate with millions of people.
Create messaging that will lead to positive change and make an impact that brings value to society.
Use the data we collect to influence stakeholders, showing how change can lead to better outcomes.
Provide income opportunities to assist formerly incarcerated people.
Develop relationships with influential people, and change how they think about America's criminal justice system.
These are long-tail strategies. Sometimes they work. Sometimes, they do not work.
For example, one formerly incarcerated person I hired was a bad apple. Rather than adhering to the strategies I put in place, people who trusted in our team told us that he misled them and provided information that they needed to be more accurate. His messaging did not harmonize with all I have strived to build over the past 30+ years. For that reason, I removed him from our company.
When things go wrong, a leader must recalibrate. A leader must fine-tune the strategy routinely. He must fix problems and navigate the pathway to success.
Those lessons would help anyone in crisis. Learn to recalibrate regardless of the decisions that others make.
Recalibrating:
When we recalibrate, we must review what went wrong and what we can do to improve, knowing that we must adjust to the world as it is rather than as we would like it to be.
People in our community are going through a crisis. Sometimes it's existential, affecting every aspect of their life today. Their response to the crisis will influence their future.
They need guidance that will help them grow stronger. They often need to learn the gravity of their problems. With insight, they would know how to architect a strategy that would lead to success.
Sometimes, people in crisis make decisions that exacerbate the problem. While in crisis, people can miss opportunities to fix the problem because they do not know how to introspect or dig deep to find the source of the pain.
Removing a disgruntled bad apple from my company will cost me more than $100,000. By removing that bad apple, however, I will move closer to achieving the goal I set decades ago:
Create solutions that will improve outcomes for all justice-impacted people.
We appreciate the people who come into our community. However, many of the questions they ask show how little they understand the system. Rather than looking for strategic pathways to carve out success, they ask functionary-type questions.
Since most people lack an understanding of BOP operations, I understand why they want to know the basics of prison life.
We offer information through thousands of indexed pages on our website.
However, people should know that finding answers to basic questions will not significantly affect their life for the better. Although we respond to all questions, people would not get value from our enterprise by seeking answers to the following:
How much can I spend in the commissary,
How many people can come to visit me,
Can my family send me books
Justice-impacted people need to begin thinking strategically—at a higher level—about questions they may not even know how to ask.
Example of Strategic Thinking:
For example, on August 13, 2012, I finished 9,135 days in federal prison. That was more than 25 years inside federal prisons of every security level. My wife (Carole) picked me up from federal prison that day.
For the first time, I was in society. Carole drove me from California's desolate Central Valley to San Francisco. I reported to a halfway house to serve my final year. Before getting to that halfway house, I told Carole that within five years, I'd reach a higher level of success than people my age who had never been to prison.
I told her I would earn our first $1 million within five years.
To a successful person who hasn't been in prison for 25 years, that may seem like a shallow goal. But that is because such a person has had different experiences.
Coming out of prison after 25 years meant I had never sent an email or used a cell phone. The internet didn't exist. Everything technology related would be new to me. I had read about the changes in the world, but that's like reading about playing tennis. Reading books on tennis doesn't make a person a good tennis player.
The experience had many implications requiring me to learn to live in a society that had advanced significantly since I began my term in prison when I was 23, in 1987. I returned to society at 48 years old:
Without credit,
Without a work history, and
With a criminal record that went back longer than most people could remember.
With those handicaps, earning $1 million within five years would be insurmountable if I didn't know how to think strategically. Just navigating the halfway house complicates life for most people.
If I didn't know how to think strategically, I may have asked different questions, such as:
Where can I buy a new pair of shoes?
How do I shop in the supermarket?
What is an Uber?
Where are all the payphones?
Those may have been good questions. Yet they wouldn't have helped me overcome the challenges of living in prison for 25 years.
I didn't want to earn $1 million because I wanted to begin living a lavish lifestyle. I needed to do what others have not done. By earning $1 million, I could show the value that comes from living strategically and deliberately.
People can do what others don't think can be done so long as they have a strategy and a mindset for success. In my case:
The record I built, and my earnings, would lead to credibility.
The documented record would lead to more influence.
The influence would help me make a more significant impact on the lives of more than 1 million people.
By changing systems and people, I could become the change I wanted to see.
Life is about strategy, creating tactics, and working deliberately to execute the strategy.
It is not about copying others or hijacking their work. Success requires personal leadership and growth.
Carole asked how I would achieve my goals. I told her I would use the same strategies that empowered me during my prison. That strategy required that I:
Define success,
Create a plan,
Put priorities in place,
Develop accountability metrics,
Execute the plan daily.
What was the plan?
I planned to build a series of scalable ventures. Those resources would work harmoniously to help people avoid criminal investigations and the complexities of judicial proceedings. The totality would lead to change on a macro scale, and to the extent that individuals used the strategy, it would lead to change on a micro-scale. The ecosystem would help people recalibrate and rebuild if they found themselves in trouble.
Had I spoken with people reading this message in August of 2012, they may have found value in all I had to share.
Yet were people ready?
How would others respond if I asked:
"What are the chances of you ever going to prison?"
I suspect that most people would have considered such a question preposterous. They would not know the collateral consequences of big government, where agencies overuse the criminal system, responding to problems that leaders could more effectively resolve with civil proceedings.
Yet if I spent a few hours with them, describing what I learned from interviewing and writing about thousands of people I met in prison, they may change their thinking. Through my work, I have interviewed and written about business leaders that led billion-dollar enterprises, and I have interviewed and written about people who were once homeless. I have interviewed and learned from:
Federal judges,
US Attorneys,
Federal Probation Officers,
High-level executives from state and federal prisons systems,
And thousands of justice-impacted people.
Such resources become an asset for people who want to recalibrate.
Intelligent people would absorb that information and be more intentional about making decisions to avoid expensive government investigations. They're not only expensive in terms of financial costs and loss of income. They are costly in terms of mental health.
What value would you have placed in learning such lessons earlier in your life?
How much would you have saved in legal costs?
How much would you have made in income without the clouds hanging over your head?
It's understandably troubling to wonder about the nuances of prison life, such as how many pictures guards will allow a person to receive. But that is different from the information that will move the needle in your life. And frankly, responses to such questions would not be worth the fees people pay to engage our firm.
Any conman or charlatan coming out of prison could posture as an expert. That doesn't make the person an expert at navigating the crisis ahead.
What Questions to Ask:
To get the most value from our team, we need to help people figure out what questions to ask. People in crisis need to learn because they look at problems they will encounter in the immediate future.
It's a like a patient who goes to a surgeon saying he wants an aspirin to deal with back pain when the surgeon knows that to cure the problem, the person needs a surgical intervention.
Justice-impacted people must consider the challenges they will face in the next ten years.
What are you doing today to resolve those problems?
The information we provide helps people craft strategic responses that align with the way that they define success. That is the value we offer.
An effective strategy can help people in crisis restore confidence and get back on track. Regardless of what the system does, people must learn how to:
overcome,
recalibrate,
regain confidence, and
prosper again.
That is the value I want our community members to receive. To provide that value, I need people to think about more significant questions that will have lifelong implications.
To ask those questions, people must become familiar with the journey ahead.
For that reason, I wrote Earning Freedom: Conquering a 45-Year Prison Term. To make sure people can receive the message in any format, I published the book in softcover, digital format, and as an audiobook.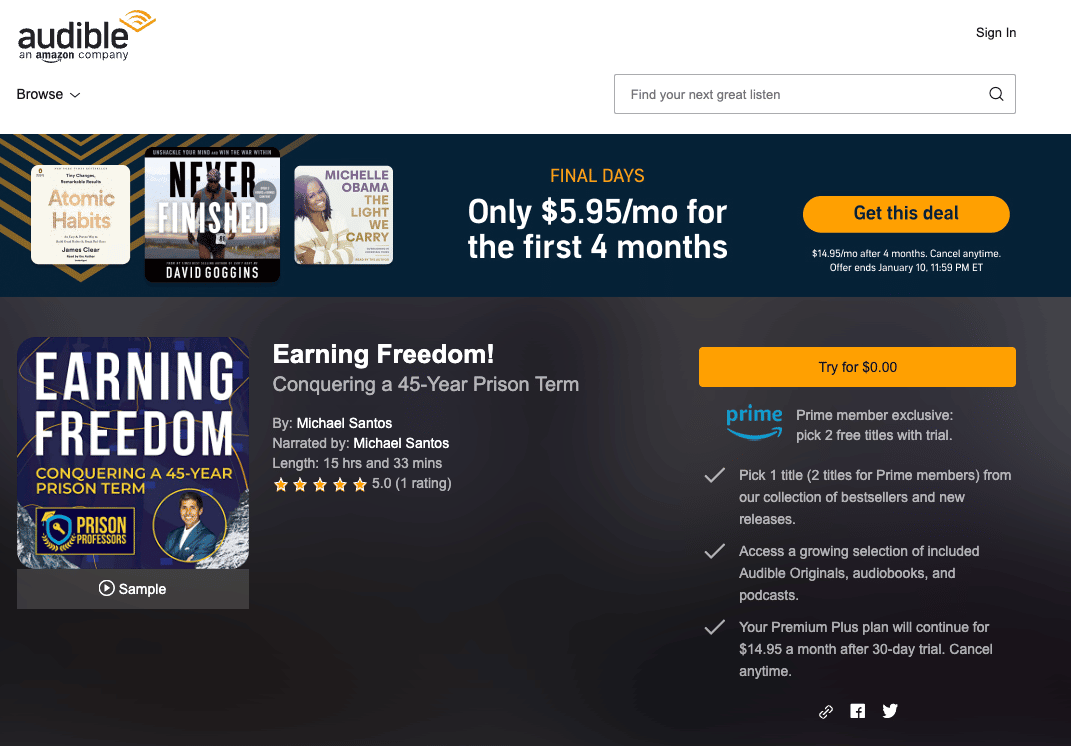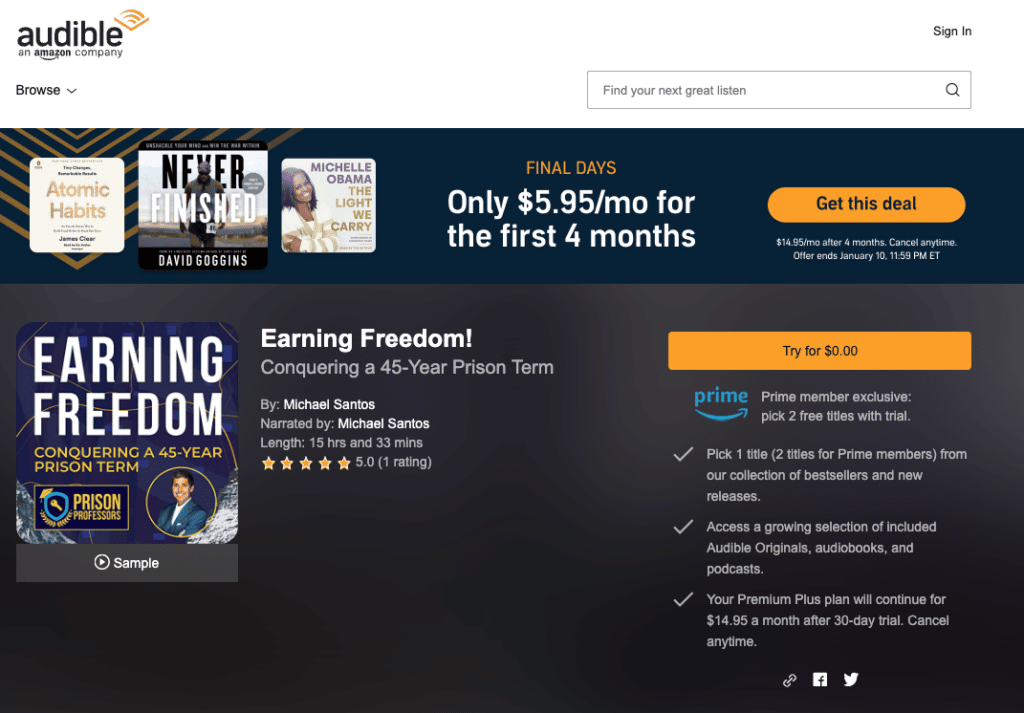 Earning Freedom will help people learn more about the journey ahead. I encourage people to listen to that book or read that book early. It will show the challenges, but it will also show how to overcome those challenges.
Count on our website or team to respond to questions about prison life. But think bigger. Learn how to engineer pathways to overcome the problems ahead.
That is where the value brings a 100x return. People will have to do the work. It is not the messaging that a charlatan can deliver.
To do the work, a person must understand how to create tools, tactics, and resources to solve problems.
A lawyer can't solve such an existential crisis for a person.
The system will not solve the crisis.
And our team can't resolve the crisis.
Each person must develop the tools, tactics, and resources to carve the path that will lead from struggle to prosperity and to a higher level of liberty at the soonest possible time.
We believe in you.