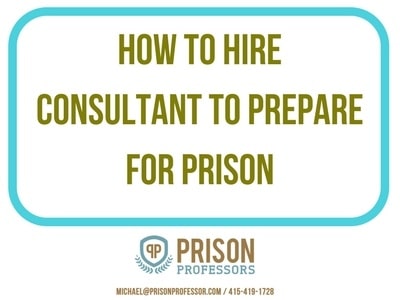 How to Hire Consultant to Prepare for Prison
Has the government indicted you? You may want to know how to hire a consultant to prepare for prison. If you don't know, how can you choose which consultant to hire? Start by completing your due diligence.
All consultants will claim that they can help. But how do you choose? If they say that they're able to improve another person's experience in prison, how would you know?
Some consultants cite the length of time they served as a credential.
Is time in prison sufficient? Ask for better data points. Vet the prison consultant you hire.
Former Prison Staff
Besides former prisoners, some consultants are former prison staff members. They held mid-level management positions. As such they know prison policies. But staff members use those rules to thwart prospects for success. Question these consultants. Can they advise a person on how to succeed in spite of those policies?
When hiring a prison consultant, make sure that you complete your due diligence. Learn how to define success. Test what value a consultant offers. You're striving to succeed in an environment designed to bring failure.
Don't take my word for it. Just check the statistics on recidivism. The National Institute of Justice offers insight. Within three years of release, officers arrest about two-thirds of all former prisoners. Don't believe that white-collar offenders are immune from those stats. Our system is designed to receive. A good consultant should show how to overcome those odds.
A criminal conviction and time in prison derails success for many people. That record will influence income prospects. It will influence career choices. A record may block access to credit, and many other factors. A consultant should help you succeed in spite of those hurdles.
Define Success with your Consultant
Do you want the best possible prison experience? Find a consultant that knows how to master the system. Look at my partner Shon Hopwood for an example. He shows how a person can face a challenge, but overcome. Make sure your consultant can show the same.
That consultant should be able to offer credible guidance. It would be is easy to prove. The consultant should offer insight into how the system operates. He should show how he has mastered the system.
What are the different policies? How can I use those policies to advance my own objectives?
When interviewing consultants, ask open-ended questions. Responses should confirm the consultant's expertise. Do others validate the consultant's knowledge? Any type of boilerplate responses should raise a red flag.
Everyone has a unique story. The prison consultant should know the client. How does the client define success?
The client and consultant should plan for the best possible outcome. One person's success differs from the best possible outcome for another.
We can take two students, for example. One student may excel in math. The other student may excel in dance. Would a career advisor set the same course of action for each?
No Boilerplate
A good consultant will advise each client personally. He will know how to set that person on a successful journey. He will establish metrics the client may use to hold himself accountable. He will show how the strategy will advance prospects for a successful outcome. He will show the client advantages and disadvantages of every security level. A strong consultant will know how to advise for better prospects of success in any type of environment.
Be very careful about hiring consultants. They should show precisely how they can help. Request a clear scope of work, with clear metrics for success. Ask for clear accountability tools. They will lead to a successful relationship with your consultant.
Consider the factors above. Use them when assessing potential prison consultants,. Choose wisely.
Was this post helpful?
Let us know if you liked the post. That's the only way we can improve.