URL: https://vimeo.com/747874464
Title: Horse Training with Rene
Blurb:
Rene found success in an unconventional career: horse training. Raised on a farm in rural Canada, Rene began nurturing his love for caring for animals at a young age. Although he faced several challenges, including not responding well to school, his penchant for rehabilitating and training horses led him to a lucrative career.
Objective:
Students should learn about viable career paths in agriculture for people leaving prison or jail. In addition, they should understand the importance of a solid work ethic, a passion for their career, and integrity. Lastly, the lesson plan outlines essential critical thinking, communications, and math concepts.
Lesson Requirements:
Watch the video that accompanies the lesson
Write a definition of each word highlighted in bold and written in italics
Use ten of the vocabulary words in a sentence
Respond to a minimum of three open-ended questions by following instructions at the end of the lesson.
Lesson Outcome:
Participants will increase their vocabulary by at least ten words.
Participants will improve writing skills and their ability to contemplate how their responses to open-ended questions relate to their prospects for success upon release.
Participants will add to their journal, demonstrating a self-directed, self-improvement pathway to prepare for success upon release.
Our team at Prison Professors sincerely thanks Rene for sharing insightful life lessons with our audience. He teaches us about his love for caring for and training animals. This zeal led Rene to enjoy success and generate considerable revenue as a horse trainer.
Rene teaches us the importance of pursuing our passion as we progress in our careers. We also learn how agriculture presents promising employment and investment opportunities for people rebuilding their lives after incarceration.
Background:
Raised by a family of farmers in rural Quebec, a French-speaking province in eastern Canada,
Rene struggled academically and lacked fluency in English growing up. He found it hard to pay attention in class and experienced eyesight problems. To his parents' chagrin, he dropped out of school in the eighth grade, far earlier than when his peers finished school.
To persevere through his early struggles, Rene found solace in his enthusiasm for raising animals. He tells us that the "animals kind of saved his life" by giving him a sense of purpose. As a child, Rene excitedly waddled in boots to feed animals on the farm. Even when his friends played sports or went into town to socialize, Rene stayed behind to continue honing his craft. Though he also helped raise chickens, ducks, and rabbits, Rene discovered a particular affinity for horses.
Eventually, Rene turned his knack into a full-time career. He purchased his first horse for $600. The horse was injured, but Rene used his expertise to nurse the horse back to health. As its health improved, the horse began participating in races, exceeding the expectations of veterinarians who believed it could never compete again. The horse even won its first two races, leading Rene to earn a reputation as a skilled trainer capable of rehabilitating injured horses.
Aside from discussing his career, Rene detailed how opportunities in agriculture could become career venues for our audience. Among other attributes, farming offers pathways to success because it:
Remains open to people with criminal convictions – Rene touts farming as a profession available to anyone seeking to rebuild their lives and make an honest living. Employers generally do not require applicants to undergo background checks. Instead, farms hire people who, according to Rene, are willing to "show up, do what they are supposed to do, and put the time in [to succeed]."
Many positions require no prior experience – Rene shared the story of hiring his friend, a fisher with no experience working with horses, to manage a horse barn. Some observers were skeptical of Rene's hiring decision, yet the employee performed according to Rene's expectations by upholding a solid work ethic, integrity, and willingness to learn. Even though he was a rookie, Rene's friend prospered in his new career by showing that he cared about the quality of his work.
Features a broad range of career options with a multi-faceted set of responsibilities – Aside from working as a trainer, Rene mentioned other vocations available to people working on farms. These options included employment as a cleaner, truck driver, and lawn maintenance worker. In addition, farming is a dynamic occupation in which, Rene says, "you're never doing the same thing every day." The type of work a person on a farm will complete will depend on the season of the year, the location of the farm, and the type of animals raised.
Offers significant earning potential – A newly hired farmhand can expect to earn $100 day (roughly $20,000 annually) for 6-7 hours of labor. Rene adds that such workers may work overtime to supplement their income. With career progression, farm workers can expect from $500 to $2,000 per week (between roughly $26,000 and $104,000 annually), depending on the service rendered and hours worked.
Has jobs available nationwide – Agriculture is an in-demand business everywhere in the United States. Some horse trainers, for example, may spend winter months in Florida, where the warmer climate is conducive to rearing animals. At other times of the year, the trainer may temporarily relocate to a different area with a seasonal demand for labor.
Potentially provides housing and accommodations – Some agricultural sites offer living arrangements for workers. Rene mentioned dormitories for employees at training centers, facilities where horses are taught how to race. These locations included kitchens and were adjacent to job sites, meaning workers could save significant money on food and transportation.
Like all career fields, the most successful people in agriculture work hard, remain committed to their goals, and deliver value to their employers. We must go the extra mile to prove our worth as professionals. Rene outlined one scenario about demonstrating our commitment. In his example, a person seeking work on a farm can propose to work for a few days without compensation. Once this individual proves their value, the farm owner ideally hires this person to perform entry-level work. With time and experience, this person can progress to more advanced roles and a higher salary. During the process, the person begins leading a law-abiding life, learns a trade, and proves their merit to an employer,all critical steps towards earning freedom and avoiding repeat incarceration.
Lastly, we learn about the benefits of being intellectually curious. Newly hired workers should be inquisitive – they should ask thoughtful questions that demonstrate an eagerness to become more knowledgeable and adept on the job. Rene tells us that there is never a "dumb question" because he, like all good employers, looks forward to helping others succeed.
Takeaway:
As I served nearly three decades in prison, I sought role models like Rene to understand the success principles that drive exceptional individuals like him to thrive in life. Rene demonstrates that anyone can achieve their dreams through diligence and a positive outlook.
Our listeners should ponder Rene's ability to overcome adversity.Like many people who've experienced incarceration, Rene struggled academically and left school at an early age. Yet he managed to persuade clients to hire him by becoming one of the very best in his industry. Similarly, people with a criminal background can begin overcoming the stigma of their past by working harder and delivering more value than their competitors. Success demands that we always show total commitment to everything we strive to accomplish.
We also see the importance of adopting a formidable work ethic. Farmers begin their days early. Rene told us that people working with horses start their shifts at around 6:00 a.m., though some laborers, such as those working on dairy farms, start even earlier and work longer shifts. We must take Rene's advice to "show up" and put forth our best effort every day, no matter how strenuous the schedule or workload may prove.
Finally, we learn important lessons on finding our passion. People who love what they do find satisfaction and thrive in their chosen occupation. Rene discovered at an early age that he had a gift for training and rehabilitating animals. Our students should similarly learn how their natural talent or interest in a subject can result in career success.
How can finding your passion help you develop and succeed in a career?
How do you believe Rene's love of his job and work ethic led him to become successful?
How do you believe Rene's work ethic and positive outlook persuaded people to hire him?
How do you believe Rene's story reflects his ability to overcome adversity and stigma?
How does this story inspire you to overcome adversity and stigma?
Investment Opportunities:
After enjoying success as a horse trainer, Rene began investing in racehorses to accelerate his income growth. As his reputation as a trainer grew, Rene began negotiating with investors to acquire part ownership of horses. Under the arrangement, the investor paid the full price for the animal. Rene, in turn, trained the horse in exchange for 20 percent of its worth. Over time, Rene accumulated more shares and eventually attained 20 percent ownership of the barn where he worked. Now, Rene is entitled to a fifth of the revenue generated by the barn, an arrangement that could net him several millions of dollars over time.
Yet horse racing is a hazardous enterprise. While the average horse costs around $30,000, premier racehorses can cost one to two million dollars. However, many horses attain their peak performance earlier or later than expected. Other horses perform much better or worse than anticipated, meaning that significant sums of money can be won or lost by chance.
Rene outlined for us how horse trainers make money from races. In his example, Rene mentions a purse (total amount of prize money) of $10,000 divided between the five highest placing winners of a horse race. The purse is split as follows among the winners:
1st place winner – 50 percent
2nd place winner – 25 percent
3rd place winner – 12 percent
4th place winner – 8 percent
5th place winner – 5 percent
Using basic arithmetic to find percentages, we can calculate the total earnings for each winner as depicted in the graphic below.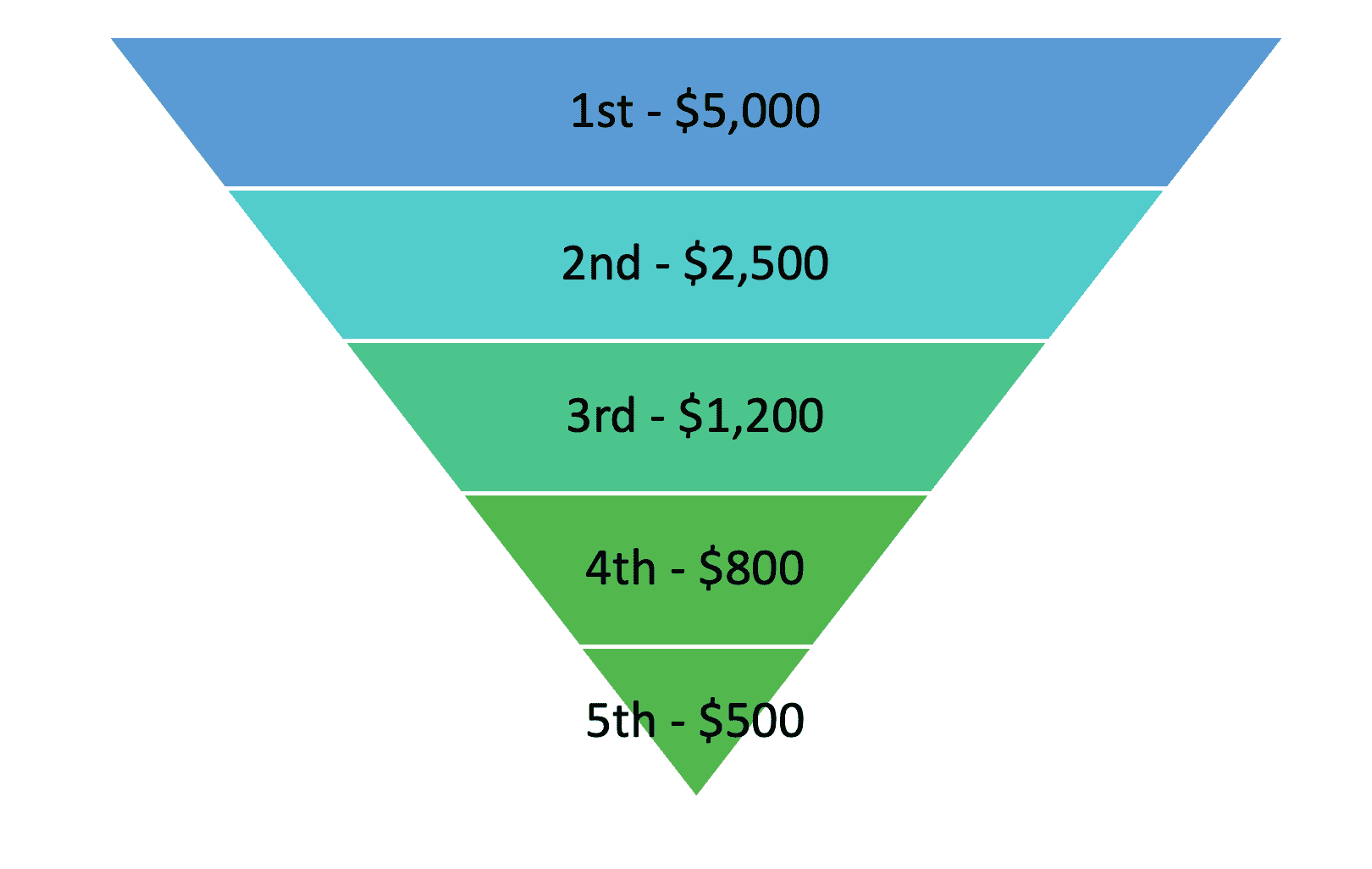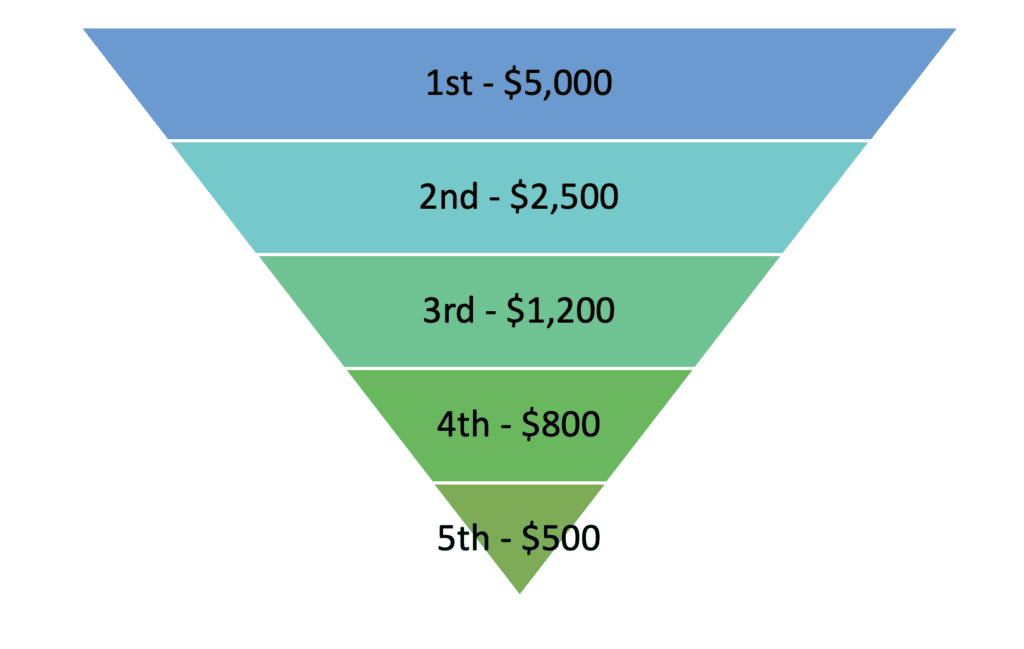 The horse trainer is entitled to five percent of the amount earned by each winner. Once again, we can use basic arithmetic to find five percent of the earnings per winner to determine the amount the trainer will earn. The graphic below lists the trainer's earnings, depending on the winning place of the horse.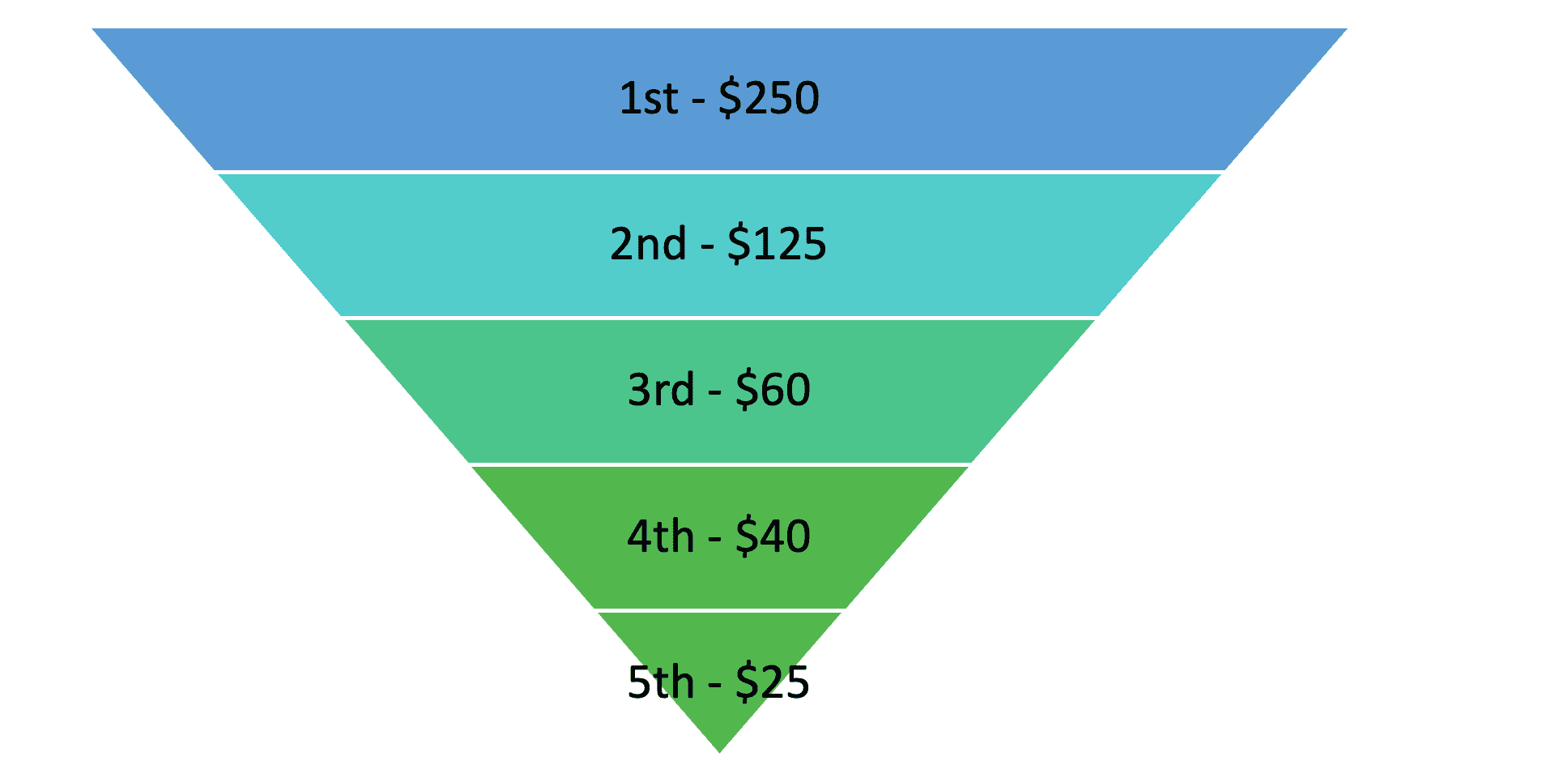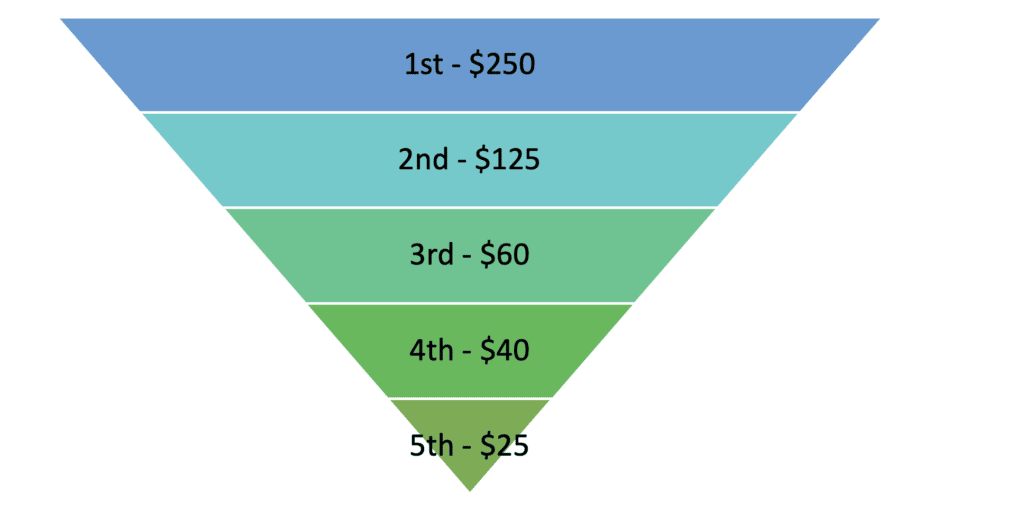 The most successful horse trainers can make significant profits off such winnings. Rene estimates that the highest-grossing horse trainer has earned approximately $20 million from purse money based off winning 13,000 races. Even though most trainers earn more modest salaries, we can infer from Rene's example that a gifted trainer with a strong work ethic and passion for animals can attain a lucrative career.
Takeaway:
Our team routinely urges listeners to invest in communication, math, and critical thinking skills. We can see how Rene uses each at several points in the interview:
Communication – Like all industries, horse training demands that its practitioners become familiar with the industry jargon. Rene shared several unfamiliar terms with us, such as thoroughbred (a horse of pure breed; racehorses typically are thoroughbreds), standardbred (a breed of horse developed in the 19th century for racing while pulling a two-wheeled vehicle known as a harness), foal (a horse up to one year old), yearling (a horse between one year and 18 months old), and mare (a female horse).
Math – As discussed, to understand profits from horse races, Rene has to use basic arithmetic, such as calculating percentages. Rene also relies on math to determine everyday concepts, such as how much to feed his horses or how many supplies to buy for his farm.
Critical Thinking – Rene relies on his discernment to ensure his investments are worthwhile. He mentioned scouring online for information on horses that pique his interest. After watching videos of the horse racing and learning about its pedigree, Rene thinks critically to make an informed decision on whether to invest in a horse.
Rene also teaches us an important lesson about taking risks. He shows us that calculated risks – those taken only with considerable forethought about the likelihood of success versus failure – can lead us to prosperity. Many people leaving prison or jail aspire to become entrepreneurs or investors, both prospects with considerable risk. Rene shows us that such ventures can only thrive if we never lose track of our goals, and we work every day to achieve our long-term dreams.
Other than those listed, in what different ways do you believe Rene relies on his communication, math, and critical thinking skills?
How do you define the term calculated risk?
How can strong critical thinking skills help you take calculated risks?
How do you think Rene's passion for animals drives his strong work ethic?
In what ways do you believe Rene leads by example on the job?
Conclusion:
Prison Professors strives to combat mass incarceration, a social ill that has harmed the society of our country. We enthusiastically share the stories of leaders like Rene, who illustrate pathways to success for people from underprivileged backgrounds. Even though he did not advance far in school, Rene built a successful career based on his passion for caring for animals. He also learned successful investment strategies that potentially can bring him significant wealth.
Everyone in our audience can follow Rene's example and positively transform their lives after incarceration. At the end of our interview, I summarized how Rene's example reflects in our ten coursework modules, as written in the table below:
| | |
| --- | --- |
| Module | Lesson: |
| We must define success. | Rene defined success as finding work that aligned with his affinity for animals. He developed a solid career as a horse trainer by following his passion. Likewise, our listeners must identify which career appeals to them and determine how to thrive in that field. |
| We must set clear goals that align with our definition of success. | Once Rene identified horse training as a viable career path, he set goals on how to become successful in the industry. He once purchased a horse for only $600 but later invested time and effort in teaching the horse to race. This investment led Rene to later opportunities that enabled him to prosper as a professional. Similarly, our students must set goals that align with their long-term career plans. |
| We must make a commitment with the right attitude. | Rene was willing to work hard and demonstrate a firm commitment to his, employers, clients, and animals under his care. Rather than focusing on his earnings, Rene was determined to be the best in his field. His dedication led him to attain 20 percent ownership of all the horses he helped train, accelerating his income growth and ability to find new opportunities. |
| We must see ourselves as being something more than the challenges we currently face. | Throughout the interview, Rene gave examples of highly successful horse trainers and demonstrated profound knowledge of the industry. He taught us about different ways to invest in racehorses and |
| We must always take action. | Rene stressed the importance of "being willing to show up." He always demonstrated a formidable work ethic and proved his willingness to succeed on the job. |
| We must hold ourselves accountable. | Our students must ensure that their making daily progress toward fulfilling their dreams. The most successful people create and follow metrics to measure how far they're going toward fulfilling a long-term goal. A newly hired farm worker can hold themself accountable by examining their performance on the job each day. After they're finished with their shift, they can ask what they could have done to perform better and how to demonstrate their commitment to success best. |
| We must stay aware of opportunities. | Rene knows a lot about his industry. We heard him discuss different breeds, pedigrees, and the characteristics of successful racehorses. By becoming an expert in his field, Rene can become aware of optimal investment opportunities |
| We must be authentic. | Like all vocations, a career in agriculture requires hard-working employees willing to work hard and show genuine commitment to their mission. To be successful, practitioners in the field must wake up early, commit themselves fully to success, and deliver results for their employers and clients. |
| We must celebrate small victories. | Rene had several motivations to celebrate small victories as he incrementally achieved success throughout his career. Each steppingstone he made in his career – from starting to care for animals, becoming a trainer, to becoming an investor – offered Rene an opportunity to reflect on his feats. |
| We must show appreciation for the blessings that come our way. | Rene has shown appreciation by creating opportunities for job seekers. Furthermore, he has demonstrated a willingness to contribute to society by voluntarily sharing his life lessons with our audience. |
We encourage all listeners to emulate his success story by making incremental progress toward their goals. We all prepare ourselves to earn our freedom by following leaders like Rene.
Critical Thinking Questions:
Choose any of three questions below. Write a response for each of the three questions you choose. In your response, please write at least three paragraphs, with a minimum of three sentences each.
This exercise in personal development will help you develop better critical-thinking skills, and better writing skills. There are no right or wrong answers to these questions. We're striving to learn how to think differently, and how to communicate more efficiently. Try to use some of the vocabulary words from this lesson in your responses.
Does a career in agriculture interest you? Why or why not?
Why is it important to "show that you care" about your work?
What routines or hobbies can you adopt to begin engaging in your passion ahead of your release?
What books or learning resources can you access to begin learning about your passion?
How does Rene's story inspire you to find your passion and apply it to your career?
Aside from those already discussed, what leadership traits can you identify in Rene?
How do you think being intellectually curious and open to learning helps you thrive in your career?
How can upholding a strong work ethic and integrity lead you to earn the trust of others?
What does Rene's story teach us about overcoming adversity and stigma?
How can we use critical thinking skills to determine whether to take a risk?
Was this post helpful?
Let us know if you liked the post. That's the only way we can improve.